Why invest in Digbeth, Birmingham?
Birmingham is not only the UK's largest city outside London, but also one of the country's main financial hubs. There is a wealth of opportunities for companies seeking to expand and invest in Birmingham. This, in part, has to do with Birmingham's exceptional connections to both national and international destinations. The new HS2 rail line will bring the capital even closer with a journey time of 45 mins and will welcome an estimated £1.5bn and 22,000 jobs to the region. Alongside this Birmingham International Airport sits just 5 miles southeast of the city centre with a choice of over 400 direct or one-stop flights across the world.
A £600million makeover of New Street Station was unveiled in September 2015, complete with the launch of Grand Central shopping mall. Close by is also the Bullring, where high street favourites can be found, alongside the iconic department store Selfridges.
The city houses 5 universities with over 73,000 UK and overseas students choosing Birmingham as their place to study and build careers. The relocation of firms such as Deutsche Bank, HSBC and HMRC will increase the number of affluent professionals making Birmingham their home. Plans have been announced for a £1bn transformation of the area around the iconic Custard Factory located in Birmingham's Digbeth. The scheme will include up to 2.2 million sq. ft of commercial space and 1,850 homes alongside shops, restaurants, cafes and additional leisure facilities. It is a major part of the city councils plan to regenerate Digbeth ready for the opening of the HS2 terminal.
Hs2: Fast access from london to the north
What is the HS2?
The HS2 is a new, high speed railway line linking London and the West-Midlands. When complete it will bring the capital even closer to Birmingham, with journeys to and from London taking only 45mins, almost halving current journey times. The second phase of the project will see more high speed links created between Birmingham, Manchester and Leeds further boosting the Economy of the Northern Powerhouse. The Department for Transport has said that the project will triple the capacity of trains across the entire route.
New HS2 stations being built across the region will create thousands of new jobs and City Mayors across the North of England are praising the project for the economic boost that the investment will bring to the area.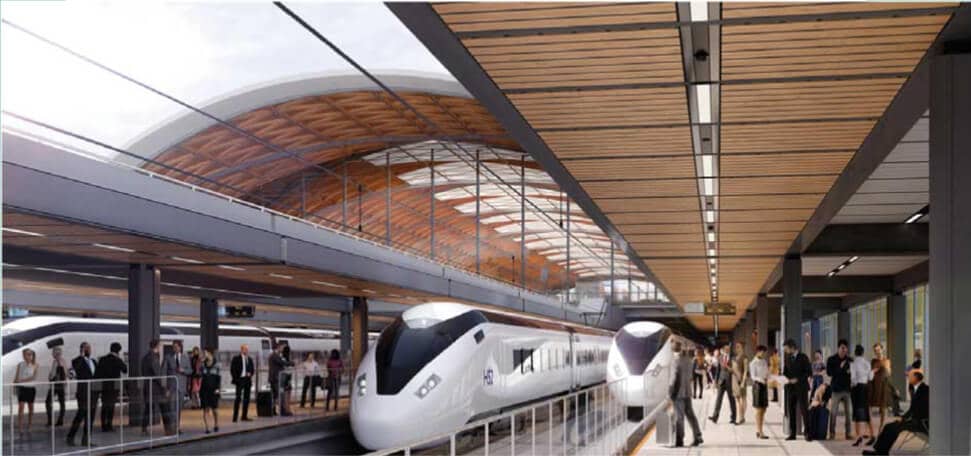 When will HS2 open?
The first phase of the scheme between London and Birmingham could see trains run on the route by 2028 according to the Transport Secretary with the second leg which encompasses Manchester and Leeds on course for a 2035 opening. The future prospects of High Speed Rail across the UK is highly anticipated and property prices in the coming years are set to surge in response, with Sterling Property Portfolio cresting the wave for investors.